Main content starts here, tab to start navigating
CANTINA NIGHT! Wednesdays from 4pm-8pm
Go to ORDER PICKUP on our online ordering to see details of our delicious Wednesday Night Mexican Specials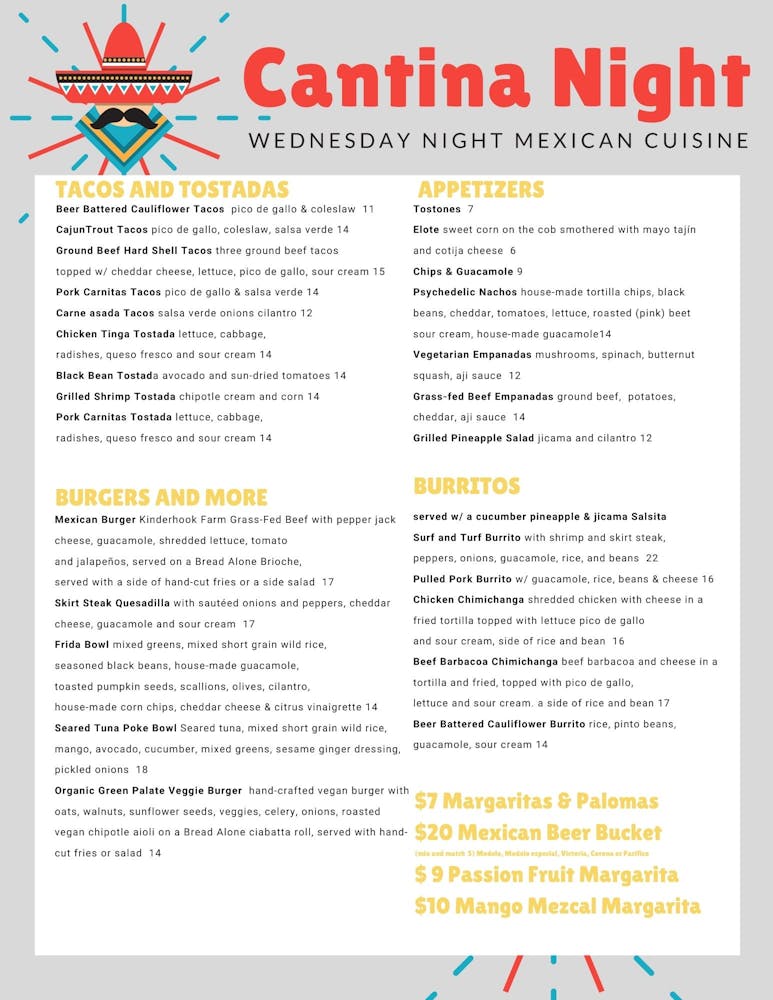 Starters
PSYCHEDELIC NACHOS

house-made nacho chips with seasoned black beans, cheddar cheese, tomatoes, lettuce, roasted beet sour cream & guacamole

$14

add local chicken $6

add Kinderhook Farm Grassfed ground beef $6

add tempeh $6

add shrimp $7

add steak $8

GUACAMOLE AND CHIPS

house made guacamole with house made tortilla chips

$9

WINGS

BBQ, Chipotle BBQ or Honey Sriracha with blue cheese dressing

$12

VEGETARIAN EMPANADAS

mushrooms, spinach, butternut squash, aji sauce

$12

GRASS-FED BEEF EMPANADAS

Kinderhook Farm ground beef, potatoes, cheddar, aji sauce

$14
Salads
Caesar salad

$9

Kale Salad

$14

House Salad

$9
Sides
HANDCUT FRIES

$6

MARKET VEGETABLES

$7
MAINS
GRASS FED CHEESEBURGER

8 oz Kinderhook Farm pasture-raised grass fed/grass-finished beef with cheddar cheese, caramelized onions & hand cut fries

$17

add bacon $2

add lettuce and tomato $1

add mushrooms $1.50

add avocado $2

substitute GF bun $2

ORGANIC VEGAN BURGER

The Green Palate hand crafted vegan burger with oats, walnuts, sunflower seeds, veggies, celery, onions & roasted chipotle aioli on Bread Alone ciabatta with tomato, onion and arugula

$14

FRIDA BOWL

mixed greens, basmati rice, seasonal black beans, house-made guacamole, toasted pumpkin seeds, scallions, olives, cilantro, lime & salsa vinaigrette, house-made corn chips & cheddar cheese

$14

add Kinderhook Farm Grassfed ground beef $6

add local chicken $6

add tempeh $6

add Green Palate Vegan Patty $7

add shrimp $7

add steak $8

POKE BOWL

fresh Fulton Fish Market ahi tuna, mixed wild rice, mango, avocado, cucumber, mixed greens & sesame ginger dressing (sub Tempeh for Ahi Tuna to make it Vegan)

$18

add shrimp $7

CHICKEN MILANESE

Breaded Local Hudson Valley Farm chicken, arugula, fennel, parmesan, tomatoes & lemon vinaigrette

$22

HONEY SRIRACHA FRIED CHICKEN

Campanelli's Poultry Farm chicken drizzled with honey Sriracha sauce over a sautéed sweet potato, kale, pepper and onion medley

$24

PAN FRIED TROUT

white wine basil reduction and cherry tomatoes, mashed potato purée & market vegetables

$26

BRAISED SHORT RIB

beer braised short rib with mashed potatoes & seasonal vegetables

$25
KIDS
(12 years old or under)
breaded chicken tenders & hand cut fries

$7

kids grass-fed burger with hand cut fries

$9

cheese quesadilla

$7
DESSERTS
all desserts except ice cream and The Gluten Free Bakery products are made in-house...so save room for dessert!
Crème Brûlée

house-made rich custard topped with hardened caramelized sugar and house-made whipped cream

$8

Fruition Chocolate Flourless Cake

$10

Lemon Curd

house-made rich and sweet tangy lemon custard

$8

Apple Empanada à la mode

stuffed with apples, raisins, cinnamon & topped with caramel drizzle and a scoop of Ronnybrook Farm Hudson Valley vanilla ice cream

$8

Ice Cream

Choose 2 scoops from the following: Ronnybrook Farm Hudson Valley Vanilla, Gillette Creamery Death by Chocolate, or Gillette Creamery Black Raspberry Chip

$6

Vegan Ice Cream

2 scoops of Ben & Jerry's Coconut Almond Fudge Chip

$8

Fruition Chocolate Pots de Crème

silky chocolate mousse topped with house-made whipped cream

$10
BRUNCH available Saturdays and Sundays all day and night
Weekend Hours of Operation: Saturday 11am-9pm Sunday 11am-8pm
FEELING BREAKFASTY
brunch available all weekend long
Buttermilk Pancakes

silver dollar pancakes, fresh fruit, Tree Juice Maple Syrup

$10

Egg and Cheese Sandwich

Feather Ridge Farm eggs and cheddar on a Bread Alone Brioche bun

$10

add bacon to sandwich $2

add avocado $2

Egg's Nest Omelette

choose three items: peppers, onions, tomatoes, spinach, cheddar or Swiss cheese. comes with home fries and choice of Bread Alone toast

$12

Breakfast Burrito

Feather Ridge Farm Eggs, bacon, avocado and cheddar. side of pico de gallo and sour cream and home fries

$12
Starters
PSYCHEDELIC NACHOS

house-made nacho chips with seasoned black beans, cheddar cheese, tomatoes, lettuce, roasted beet sour cream & guacamole

$14

add chicken, tempeh or Kinderhook Farm Grassfed beef $6

GUACAMOLE AND CHIPS

house made guacamole with house made tortilla chips

$9

WINGS

BBQ, Chipotle BBQ or Honey Sriracha with blue cheese dressing

$12

VEGETARIAN EMPANADAS

mushrooms, spinach, butternut squash, aji sauce

$12

GRASS-FED BEEF EMPANADAS

Kinderhook Farm ground beef, potatoes, cheddar, aji sauce

$14
Salads
CAESAR SALAD

Romaine lettuce, rosemary croutons, parmesan cheese & caesar dressing

$9

KALE SALAD

lacinato kale, onions, mango, jicama, toasted macadamia, goat cheese citrus vinaigrette

$14

HOUSE SALAD

spring mix, cucumbers, carrots, red onions, cherry tomatoes & balsamic vinaigrette

$8

ADD to any salad: local chicken or tempeh $6

CRAB CAKE SALAD

watercress, roasted red pepper, roasted fingerling potatoes, tartar sauce & balsamic vinaigrette

$18
KIDS
(12 years old or under)
breaded chicken tenders & hand cut fries

$7

kids grass-fed burger with hand cut fries

$9

cheese quesadilla

$7
MAINS
GRASS FED CHEESEBURGER

8 oz Kinderhook Farm pasture-raised grass fed/grass-finished beef with cheddar cheese, caramelized onions & hand cut fries

$17

add bacon $2

add lettuce and tomato $1

add mushrooms $1.50

add avocado $2

substitute GF bun $2

ORGANIC VEGAN BURGER

The Green Palate hand crafted vegan burger with oats, walnuts, sunflower seeds, veggies, celery, onions & roasted chipotle aioli on Bread Alone ciabatta with tomato, onion and arugula

$14

FRIDA BOWL

mixed greens, basmati rice, seasonal black beans, house-made guacamole, toasted pumpkin seeds, scallions, olives, cilantro, lime & salsa vinaigrette, house-made corn chips & cheddar cheese

$14

add chicken or tempeh $6

POKE BOWL

fresh Fulton Fish Market ahi tuna, basmati rice, mango, avocado, cucumber, mixed greens & sesame ginger dressing

$18

CHICKEN MILANESE

Breaded Local Hudson Valley Farm chicken, arugula, fennel, parmesan, heirloom tomatoes & lemon vinaigrette

$22

HONEY SRIRACHA FRIED CHICKEN

Campanelli's Poultry Farm chicken with sweet potato, pepper, kale, onion hash

$24

CAJUN SALMON

Faroe Island salmon with mashed potatoes and vegetable of the day

$24

PAN FRIED TROUT

white wine basil reduction, mashed potato puree & sautéed string beans

$26

BRAISED SHORT RIB

beer braised short rib with mashed potatoes & seasonal vegetables

$25

PAN ROASTED CHICKEN BREAST

Locally Sourced roasted chicken with orange glaze, mashed potatoes and market vegetable

$23

THE EGG'S NEST "REUBEN"

Kinderhook Farm grass-fed grass-finished house-made brisket with sauerkraut, thousand island, Swiss cheese on Bread Alone Sourdough Rye with hand cut fries or salad

$15

BBQ PULLED PORK SANDWICH

house-made pulled pork on a Bread Alone brioche bun with house-made cole slaw & hand cut fries or salad

$14
DESSERTS
all desserts are made in-house ask about our desserts!
Crème Brûlée

house-made rich custard topped with hardened caramelized sugar and house-made whipped cream

Fruition Chocolate Pot de Crème

Lemon Curd

house-made rich and tangy lemon custard

$8

Apple Empanada à la mode

empanada stuffed with apples, raisins and cinnamon topped with caramel drizzle and house-made whipped cream

$8

Fruition Flourless Chocolate Cake

$10

Ice Cream

Choose 2 scoops from the following: Ronnybrook Farm Hudson Valley Vanilla, Gillette Creamery Death by Chocolate, or Gillette Creamery Black Raspberry Chip

$6

Vegan Ice Cream

2 scoops of Ben & Jerry's Coconut Almond Fudge Chip

$8

Fruition Chocolate Pots de Crème

silky chocolate mousse with house-made whipped cream
Sides
HANDCUT FRIES

$6

MARKET VEGETABLES

$7